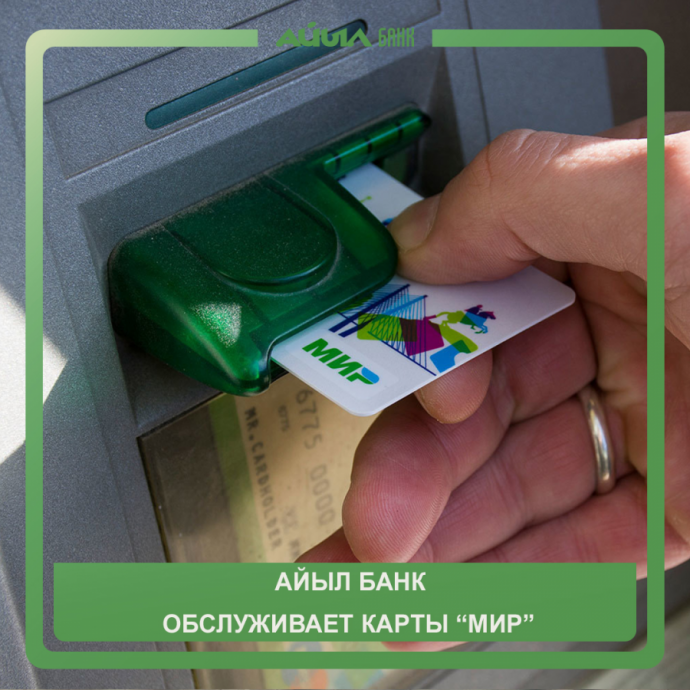 Holders of Russian payment cards "Mir" will now be able to freely withdraw funds from the wide ATM network of JSC Aiyl Bank in the most distant regions of Kyrgyzstan.
The national payment systems of Kyrgyzstan ("Elkart") and Russia ("Mir") within the framework of the project on intersystem integration provide the opportunity to use the "Mir" cards on the territory of the Kyrgyz Republic.
As part of this project, JSC Aiyl Bank, as a bank member of the Elkart payment system, connected its ATMs, and in the future plans to connect POS terminals to receive "Mir" cards.
Every year, citizens of the Russian Federation make more than 200 thousand trips to Kyrgyzstan. The start of accepting the "Mir" cards on the territory of the country will make it easier for their holders to carry out all the usual operations on tourist and business trips.
Holders of Russian cards will be able to withdraw cash at Aiyl Bank ATMs branded with the "Mir" payment system logo.
JSC Aiyl Bank is a large state bank, 100% of shares owned by the Government of the Kyrgyz Republic. The Bank has the largest branch network consisting of 180 points of presence and a wide international correspondent network.